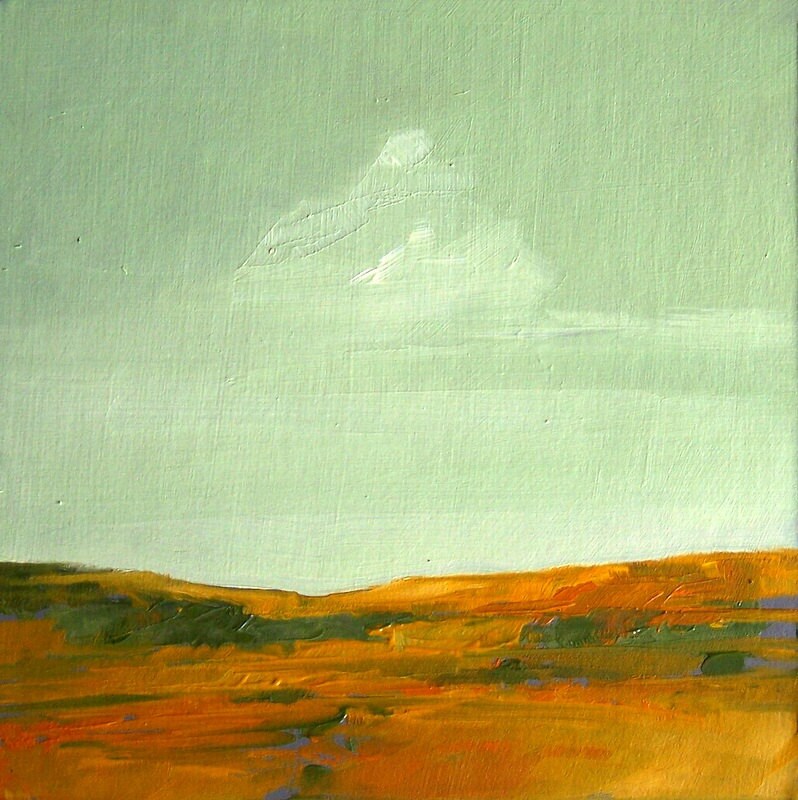 "Copper Mine", 5x5 Inch, Oil on Art Board (my personal favorite).
I enjoy exploring Etsy for new shops and artists and artworks to ogle over. Sometimes though, I find more than just a neat shop or piece of art. Instead, I find a wonderful story to go along with the delightful items inside. Thus is the case when I came across the shop
PaintingWell
. The artist behind it is a cancer survivor (hence the name of the shop "painting" + "well"), and she's devoted her time, art supplies, and profits to go toward cancer research. So far she's raised nearly $30,000! I found this profoundly inspiring, and asked her a few questions to learn more.
1. What made you decide that a shop was the best way to give back?
The answer comes in one big burst of reasons which all weigh in together.
I found ETSY, and saw they charge so little, I had a studio full of art supplies which needed to find their destiny, I was recovering from cancer treatments well enough to have a bit of energy, and so many friends and family shared my difficulty from cancer treatments which, could and should be better.
So, my time and materials could be freely directed toward making paintings. ETSY and PayPal take so little, most of the sales price goes directly to the best cancer research institutions I can find.
It all seemed to work for a win/win!
That answer is why the shop came into being, but I'm not attached to the idea that it is the "best" way to give back. If a way comes along where I could make more of a contribution to cancer research, I would do it.
2. Why did you choose landscapes for your subject matter?
The answer to this question is going to be much longer than required, but, believe me, shorter than I COULD rattle on about!
I've been saturated with Fine Art conceptualization for decades. When I began painting for this project, there were certain considerations. Style, size, energy, materials, images.
Because I had gone through years of being a cancer patient and being the sister and daughter and cousin and granddaughter and niece of cancer patients, the idea of relationship came out in a symbolic way in the early paintings.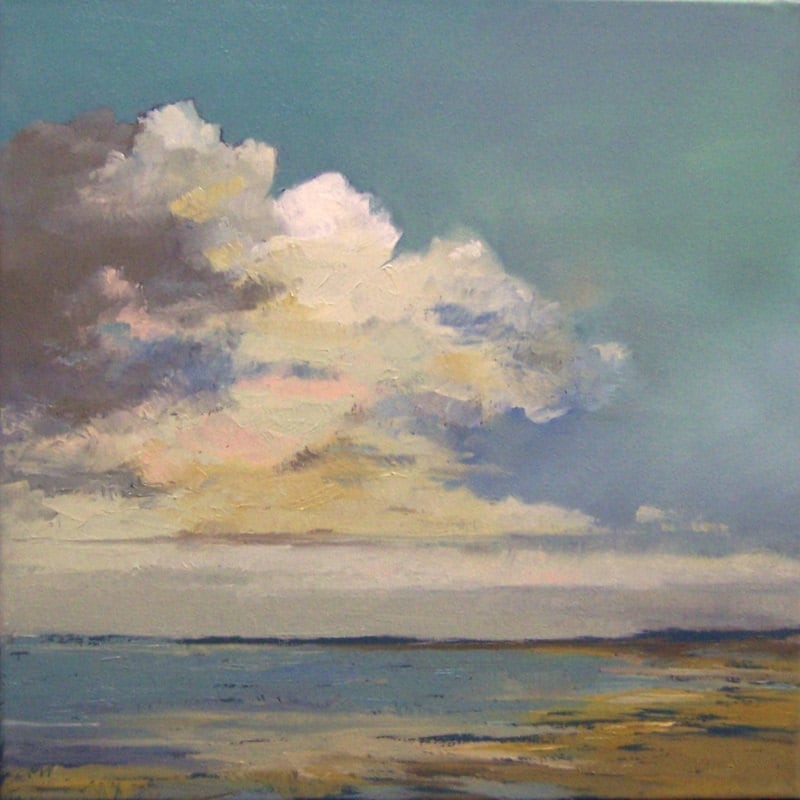 "Change", 12x12 Inch, Oil on Canvas.
Later, as I settled into a more intuitive and personal painting process, the idea of the solidity of life, just a moment away from the unknown of non-being, crept into the work. In my landscapes, the horizon represents the transition of solid ground of a life, into the ephemeral atmosphere of change and intangibles. I approach each blank surface with an open mind and whatever "path" comes out seems to have a kind of character.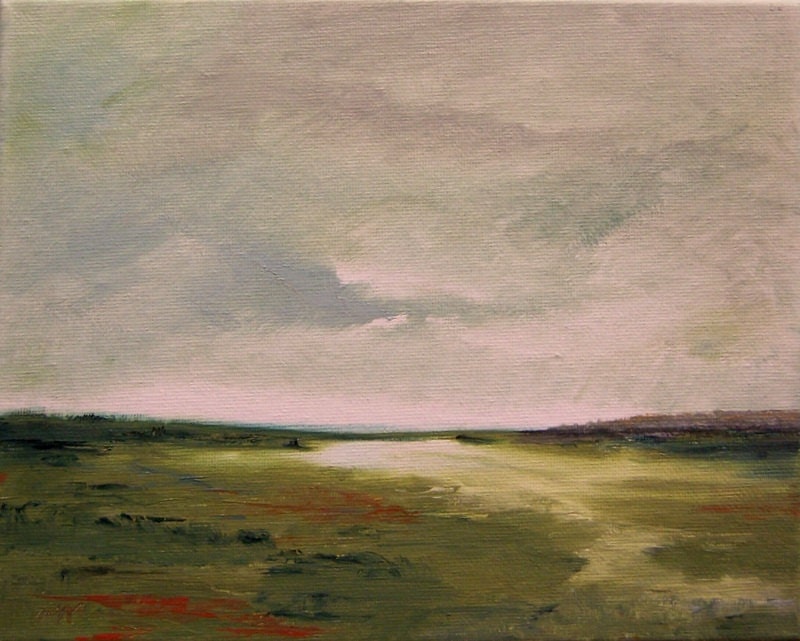 "Path", 8x10 Inch, Oil on Canvas.
That's a bit of the process and intention.
When I imagine who the painting might go off to live with, I imagine that person will be able to look at the painting as a window. Travel into the scene. It's a resting place for the eye. The scenes are almost always untouched nature - fresh, as if seen for the first time.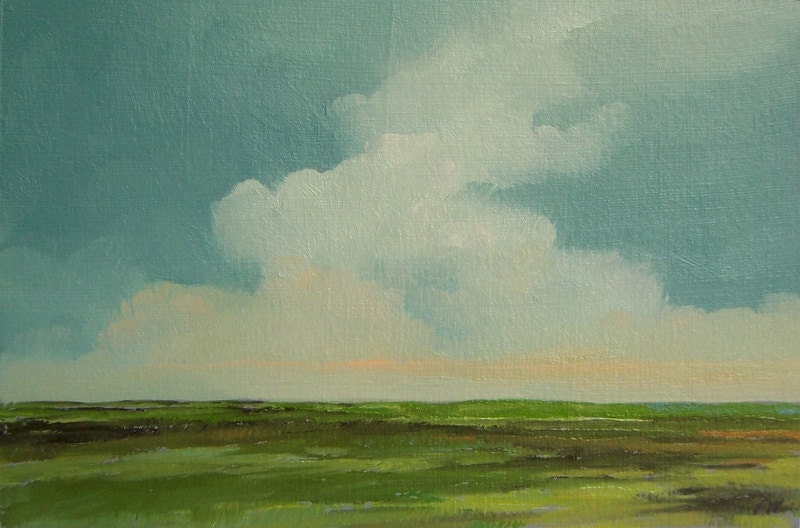 "Arise", 4x6 Inch, Oil on Art Board.
3. What inspires them? Are they imaginary, real, or both?
To answer this question, I think the first thing is to talk a little about my practice or method.

I spend a good deal of time preparing surfaces. There's a certain tactile quality that effects my paint strokes. I've developed a primer which gives the right tooth. Then, I lay out my palette. Mixing the colors is completely intuitive. I premix colors with medium and arrange them on my painting table until there is a color composition in mounds of color. Then I usually put several surfaces on my painting wall and begin. Wherever the first strokes go, that dictates the shape and direction of the others. Color harmonies are what give character and mood to the painting. I enjoy building form and finding perspective as I go along.

Rarely will I use photographic references.

Some of my own compositions come back, like recurring dreams, but are always a bit different.
4. What goals do you have for the shop?
I don't really have any goals.

It seems a mystery and a blessing that this shop, PaintingWell, and the collective, HandmadeHelp (artists who have been impacted by cancer) have continued to be found by wonderful people who buy art so that together we may make a difference.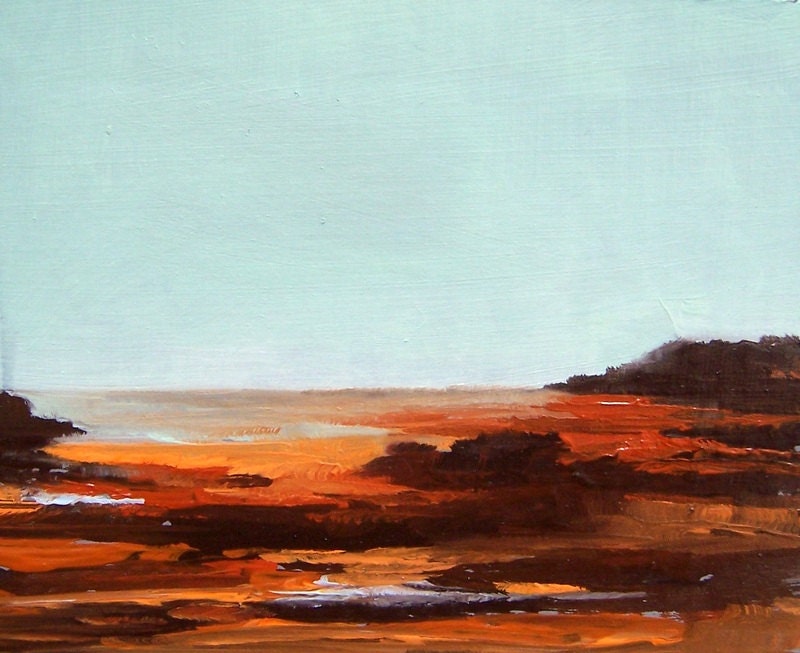 "Mini 220", 3-1/4 x 4 Inch, Oil on Cardboard.
So many people have been touched by cancer, and so many more will be. Yet, there are so many new and promising treatments on the horizon, it feels like grace to be given the chance to help.
Phew!
I hope I didn't rattle on TOO much.
Thanks again for asking me these provocative and interesting questions. It was a pleasure and honor to look inside my work.
You rattled on the perfect amount, and I'm sure others will be as happy as I am that you did. I really enjoyed talking with you, and learning more about your shop. Your paintings are truly lovely, and go toward a wonderful cause. Keep up the beautiful work, and I hope this brings lots of well-deserved attention to your shop.